WHY SOUL-SEARCHING?
Let's face it. Life is not always a pretty picture – especially if we're at the point of life where we're bombarded with difficult choices and decisions to be made. It's also one of the times that you, my friend… need a SOUL-SEARCHING travel either alone, or only with the closest of friends.
And when I mean TRAVEL, it's not a vacation of relaxation, scheduled with the entertainment you are used to and pampered with the finest things in life…
A SOUL-SEARCHING travel means that you're going to escape your everyday life and strip away all the daily stress that's burdening your mind… a time to come clean and be true to yourself – and then decide what you really want in life.
---
WHY TAIPING?
Taiping (literally translated to "Great Peace" in Chinese) – as the renowned travel LONELYPLANET.COM site put it, has "great food, elegantly weathered colonial architecture, street art – but on a smaller scale. It's a worthwhile detour in its own right."
Surely there are tons of places that are also as described, but here are a few reasons why Taiping offers the perfect soul-searching peacefulness you need…
#1 CLEAR YOUR MIND WITH FIREFLIES
Nothing is more peaceful than looking at your surroundings lit up by FIREFLIES. Just imagine nothing but the stillness of the night next to a scenic river. Then you look around, to see your surroundings are slowly lit up by tiny beautiful dots of glow.
As you close your eyes to feel the cool night breeze caress your face, you hear the slight chirps of bugs in rhythmic ambiance… you feel your mind gets lighter. Then, you feel the clarity of thoughts, as the worries and stress that clouded your mind are gradually carried away on the wings of these beautiful glowing fireflies.
The first-step of soul-searching is to CLEAR YOUR MIND from the clutters from worry and stress – and here's where it happens 🙂
Location: Kampung Dew, Simpang Empat, Semanggol, Perak
---
#2 CLEAR YOUR BODY WITH DETOX
The next step in soul-searching is to let your body go – CLEAR your body by detoxing it from the physical effects of stress… tensed muscles, tightness, and tiredness. Only when you're able to clear your body from the stresses it endured daily, that you can truly grasp the freedom to do full soul-searching.
Trong Hot Springs is recommended for such purpose, as this place is known to have healing properties. It is proven to aid in detox the system, repairs sore muscles, and to ease joint related aches with its natural elements.
Location: Batu 9, Jalan Trong, 34850 Changkat Jering, Perak
---
#3 CONNECT WITH NATURE
Life is all about going back to the basics, back to the roots. Hence, once your mind and body is both cleared and detoxified… it's time to fill the clean slate with new inspirations – the best way is to explore and find inspiration from 'mother nature' herself.
Below are a few nature gems you should visit in Taiping:
Location: Batu Kurau Bat Cave
Location: Matang Mangrove Forest Reserve
Location: Taiping Lake Garden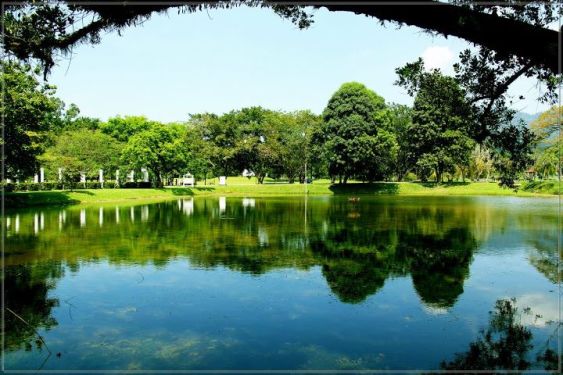 These nature gems will definitely shed a new light into your life ???
---
ACCOMMODATIONS
Now that you got your mission (soul-searching begins!) and place set… it's time to settle where you'll stay. The worst thing that could happen is the inconvenience of getting accommodation – which will stress you out even more than before.
To make your soul-searching journey slightly smoother, why not search for the right Hotel in Taiping through Traveloka? It definitely saves time as you can search for the best deals anywhere… even in the comfort of your bed or while doing 'business' ?
Personally, I recommend Flemington Hotel Taiping as the rating is high and offers one of the top-notch accommodations with a fair price. 
Whatever hotel it might be, just make sure it suits your personal needs and budget!
---
BE BRAVE
Soul-searching is not an easy task as it requires you to come clean mentally, physically, and be open to new inspirations.
Be brave, be ready to embrace whatever comes from your journey of soul-searching… let Taiping be the guide to your inner peace 🙂